Last updated: 16 January 2022
Access your full Calibre libraries everywhere
Just move your Calibre e-book library to your favourite cloud provider and access the library through Calibre Sync to browse, sort, search and download books on your mobile device.
Calibre Sync supports unlimited libraries across multiple Google Drive, Dropbox, OneDrive, Box, and pCloud accounts.
Calibre Sync v3.2.0+ supports Google Drive.
Calibre Sync v3.1.0+ supports Send to Kindle.
Calibre Sync v3.0.0+ supports Wireless device connection.
Calibre Sync v2.4.0+ allows users to write notes about their books.
Calibre Sync v1.14.0+ also supports Calibre Content Server.
Calibre Sync v1.12.0+ also supports WebDav servers.
Calibre Sync v1.10.0+ also supports Nextcloud and OwnCloud.
Calibre Sync v1.6.0+ also supports local libraries on sdcard.
Follow steps to move your Calibre library to Google Drive, Microsoft OneDrive, Dropbox, Box, pCloud, WebDav, Nextcloud, and OwnCloud
Open Calibre e-book manager on your Laptop/PC/MacOS
Select Switch/create library… from the Calibre menu
Select an empty folder in your Cloud Drive in New Location dropdown
Select Move current library to new location. Press OK
Wait for cloud sync to complete (very important), note that for Box service, it might take a bit longer for your files to be fully synced.
Calibre Sync can automatic discover the library in your Cloud Drive.
Unlimited libraries on most popular personal cloud services
Wireless device connection
Send to Kindle
Switch between libraries across multiple accounts
Search books across all of your libraries
Pull, Refresh or Remove a library from Calibre Sync
View your library statistics
Share book details
Download the book for reading
Email or share a copy of the book.
View your books list in List, Grid, or Carousel layouts
Filter books on authors, series, tags, publishers, or formats and even in custom columns
Search books by title, author, publisher, even in comments and custom columns
Dark theme and many more in the pipelines …
Write to external storage permission
Calibre Sync only requires access to device storage for downloading books to device. Note that: for Lollipop devices, you must have sdcard on devices so that Calibre Sync can download books to the external storage.
These are known issues with OneDrive integration:
Only OneDrive for Personal accounts are supported.
In case your Calibre library folder on OneDrive is not detected please retry. In case of an exception reported on the screen, please send us an email.
Due to an issue in permission of Box cloud service API, which states that "Download" is a write access, Calibre Sync therefore must ask for write permission on your cloud service. We guarantee that Calibre Sync only uses "download" for that permission, any other access is read-only access.
There are known issues with pCloud integration due to unstable streaming API in downloading files. Therefore, you might experience failure while downloading book covers and formats. If that happens, please retry those operations after a short period of time.
Note that: On old Android devices (before Android 7), you might want to install modern browsers (for example chrome, or firefox) to have the best experience logging in to PCloud service.
Calibre Sync supports most WebDav servers from version 1.12.0+, please check if your cloud services support for WebDav api (please refer to this for those such servers, for example, with Yandex Disk, you can use https://webdav.yandex.ru/ for WebDav). If it is the case, you can use the WebDav server with your WebDav username (not your email address) and password to login and use Calibre libraries on those server.
Calibre Sync from version 3.0.0+ supports wireless device connection, it will transform your device to a smart device that connects to Calibre wirelessly. The app has been tested on Calibre desktop version 5.35.0+, please use the latest version of Calibre for best experience.
Please follow these steps for setting up connection:
Go to Connect/share -> Choose Start wireless device connection, see below
Choose option for starting wireless device connections, recommended to use a fixed port also any of the ip addresses listed will work when connecting, see below
After click OK, Calibre should already starts a server, as shown in
Now go to Calibre Sync app, select Calibre Wireless Connect, see below
You can choose either options, see below
With either options, eventually you will be directed to the dialog to connect, please enter the required password (if applicable), see below
You will be asked to select inbox directory, after that, Calibre Sync will automatically make connection to Calibre desktop, successful connection show status Connected in Calibre Sync and a device shown in Calibre desktop
Now you can send book(s) to device from Calibre or doing any actions as you like with a normal device.
After the first connection, then you can switch to Smart Device (wireless connection) as easy as switching to a library from sidebar.
Troubleshooting
Wireless device connection is stuck in Connecting status, what should I do? Please try disconnecting using Calibre Eject this device action and retry.
Calibre Sync supports Calibre Content Server from version 1.14.0+, instruction to start content server can be found on this, basically, following those steps:
Go to Preferences -> Choose Sharing over the net, see below
Set options to start server (port, user accounts, …), and click start server, see below
The server should now be started and you can find information to connect the server, for example, will allow you to connect on server http://192.168.1.160:8080
Now you can open Calibre Sync app and connects to the above server (username and password might be required if you've set users in user accounts tab).
Calibre Sync uses WebDav API of Nextcloud and OwnCloud services, and it requires case sensitive file system to work properly. Therefore, you must make sure that your Calibre libraries are set up on case sensitive file system (Linux, recent MacOS, Windows NTFS with case sensitive enabled). If you find that you may not be able to download some book, you might want to check whether the directory name of the book matches the name of the book author/name precisely (case sensitive), please also rename the directory appropriately where applicable.
Calibre Sync v3.1.0+ supports Send to Kindle via Email, please follow the instruction from this, after that, you can register your Kindle email at the app settings to enjoy send to Kindle feature at the book view action, see below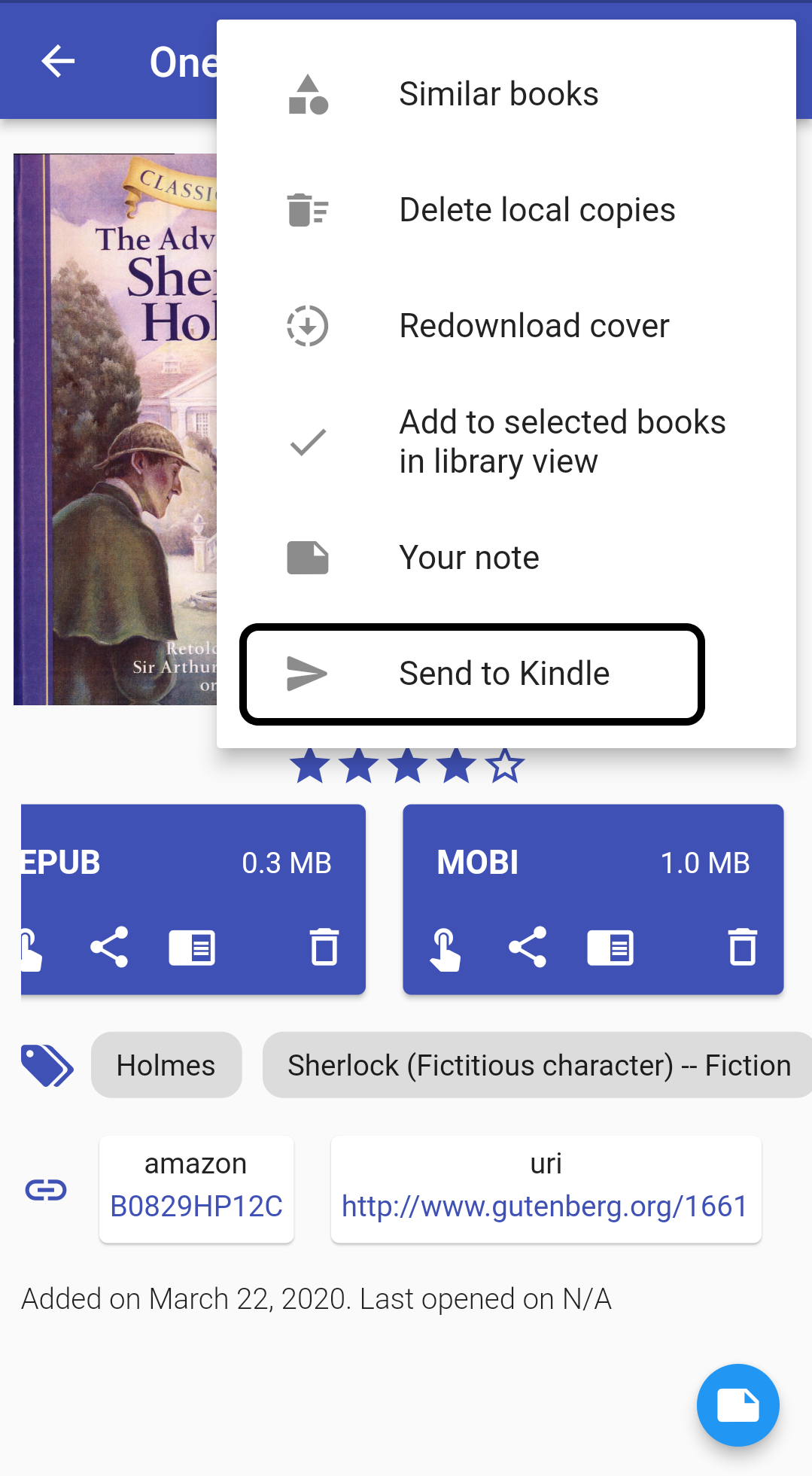 .
Which cloud services are supported?
Why the app asking for selecting download directory before syncing a library?
On Android 11 or later, the scope storage policy makes it difficult to choose a default download directory for Calibre Sync, which might lead to the downloaded files cannot be opened by external apps.
Therefore, Calibre Sync might need to ask users to choose download directory before setting up libraries in order to make the process work correctly.
Why there is an amber warning sign (⚠) on my library view?
On Android 11 or later, there have been reported that files downloaded might not be opened by external apps. The warning amber sign is to make sure that users can allow Calibre Sync to access the download directory of the library, thus making the app work correctly.
In order to resolve the warning sign, please click the button and allow access to the mentioned download directory path as shown in the screenshot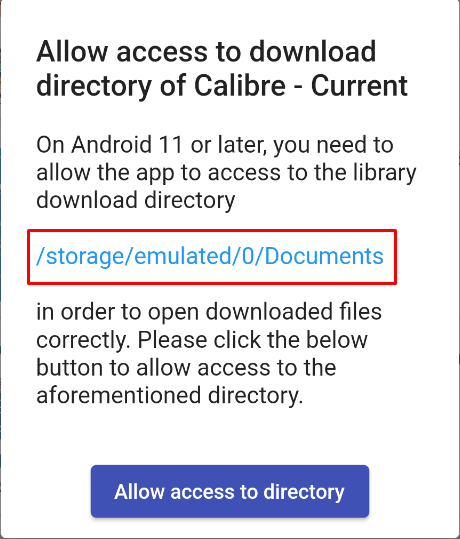 What is the "Default Download Path" in settings?
Default download path is the setting that will be picked up by default for newly created libraries. You can change this in Settings (⚙). You can also change download directory of each library to different location from Library Info action.
Prior to version 2.4.0, this setting is set to Download in internal storage. However, from version 2.4.0+, this setting is updated to Documents in internal storage to accommodate with the change of "scoped" storage in Android 11.
Why I can't select Download directory in my phone on Android 11 for download path?
From Android 11, it is not allowed for apps to write directly to Download directory, however, you can create a sub-directory in Download and select it.
We could have made that option available by requesting access to all files, but we didn't make that choice to respect the privacy of our users.
Note that: Android versions prior to 11 are not affected.
Why my libraries don't show in OneDrive after I sync?
OneDrive has been known to have slow indexing of files after syncing to the cloud, please wait a while for OneDrive to fully sync your libraries. Otherwise please use manual OneDrive Calibre library from the app.
Can I read my downloaded books with Calibre Sync?
No. Calibre Sync is not a reader app. There are already many beautifully functional reading applications on Play Store that support a multitude of formats & features. Calibre Sync launches any of these apps for you when you try to open a book through Calibre Sync.
Downloading multiple books at once?
There is currently no support for downloading multiple books at once because the intent of the application is to browse your library but download books only on demand when you need them. The device storage is constrained. Keeping all your books on device defeats the purpose of cloud integration. This is what we feel; though if there are enough demands for such a feature, we might go ahead with the implementation.
How can I use multiple Dropbox accounts?
Logout from the current Dropbox account using 'Sign Out' at top right, then log in with other account.
SD card support?
Yes. Calibre Sync fully supports read-only libraries on sdcard.
External USB storage drives support?
Not yet! That is still under development.
Other Cloud storage service?
We aim to support all current popular personal Cloud services. If there is enough demand and there is API available for another service. We will try to provide support for that.
Should I worry that my desktop Calibre libraries are corrupted by this app?
No. Calibre Sync only performs READ-ONLY operation.
Why Calibre Sync asking for write access on Box accounts?
As already mentioned in Box service integration, "Download" is a write access on Box service, therefore, Calibre Sync must ask for write permissions, rest assure that it is the only permission that Calibre Sync asked for. Any other operation is READ-ONLY.
Have a suggestion?
Facing an issue or have a suggestion? Send us an email about the issue/problem you have. We are glad to hear from you and are committed towards making Calibre Sync experience smoother. Please don't start with negative ratings on Play store. Leave constructive criticism there. Drop us emails with your suggestions.